Sunday, November 4th, 2012
With just two days to go before the 2012 Presidential election it doesn't surprise me, but it certainly disgusts me to see how disgracefully Romney and his political pundits have behaved in utilizing the Benghazi tragedy for political gain. As we know FOX News and their entire network have been amongst the worst offenders. Working hand in hand with Romney to exploit the ambassador's untimely death. They have all acted shamelessly in their twisted analysis and exploitation of the Benghazi incident.
The Republicans claim this election is about the economy and jobs. This campaign started with a focus on social programs, and we immediately observed Romney and Ryan's clear intent to destroy what America has diligently built to protect the poor and their elderly. In no time the campaign conversation turned to women's issues. Once again, what prevailed was Romney's failure to support women and in particular equal pay for women. Ryan's alliance with extremist politicians, and his own desire to define rape coupled with his Ayn Rand ideology, put the Romney-Ryan campaign on a path to failure and defined the ticket as one who clearly does not see a woman, as an equal to men.
Romney's 47% comment defined the Romney-Ryan ticket as one of the haves, versus the have-nots.
The Benghazi tragedy was a gift for Romney. Romney didn't waste a second in seizing the opportunity to exploit the Libyan incident, he didn't spend one minute to mourn with the family of U.S. Ambassador Chris Stevens, he didn't spend a second in mourning with us, the 47% who's hearts were broken as we observed the morbid images of Ambassador Stevens' body being ravaged by terrorists. Romney's sole focus was exploitation of a weak moment. It was the Bain strategy at it's maximum.
Romney's behavior was telling, it was a repeat of past behavior. Romney didn't care about the lives of those workers and their families that he destroyed as he gobbled up companies and bankrupted them while sending their jobs to China as the head honcho of Bain, for Romney, it's all about carpe diem, no matter whose throat he has to cut to achieve his ultimate goal.
Then, it was Bain Capital, today, it's the presidency of the United States, for Romney it's all about serving the elite, profiting from the next project, and filling his, and his friends coffers, for continued exploitation and of course, exportation to overseas accounts.
For most of us it has been RIP Ambassador Chris Stevens, for Romney, it's been VIP treatment for those uniting with him in exploiting the Benghazi matter.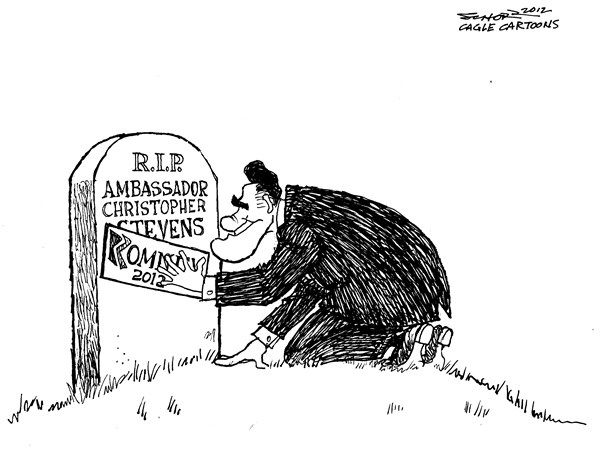 Carlos E. Galindo is a nationally syndicated radio talk show host & political analyst conducting radio shows in both English and Spanish on four radio stations in Arizona. Mr. Galindo is a weekly contributor to KPFK 98.7 FM Los Angeles and W60 AM Radio, Los Angeles, San Diego and has appeared on CNN, Univision and Telemundo as a political analyst. Mr. Galindo is also an Op-Ed columnist on Prensa Hispana and the Tucson Citizen in Arizona. Carlos Galindo is President and founder of the Immigrant Advocacy Foundation, Inc.
http://www.carlosgalindo.com