Friday, December 14th, 2012
Our hearts hurt for the parents who lost their little ones today.  Our thoughts, good energy and prayers are with them.
I can't help but think that the rise of multiple shootings in our nation … albeit in theaters, malls, schools, colleges … are a wake up call to many of us.  It would be a good idea for schools to now consider having 'shooter' drills.  As a parent, I will be teaching my children basic survival skills in the event that this takes place (may God forbid it) in their schools.
Our kids should be taught and trained what a weapon or firearm sounds like so they can immediately take cover and hide behind school desks, tables, chairs or whatever they can find to protect their skull, and other important body parts.  We live in an age where schools perform fire drills, earthquake drills, tornado drills and etc., and I think it is time to have productive discussions on training our young children how to protect themselves from mad men/women via 'shooter' drills  — especially in a school environment.  The proactive skills they learn in school may transcend into necessary skills they can use in malls, theaters or public places later on in life. The investment in our children will not be wasted.

I encourage parents to teach their children basic survival skills anyway, in the event that schools decide against "shooter" drills from a 'take cover' point of view particularly when most classrooms have only one entry/exit point to begin with.
Our children are worth the time we teach them to try and protect themselves.  They need to be trained how to kick over their small desks and take cover.  We must train little ones to defend themselves as best we can because their lives depend on the skills we offer and teach them.
May God be with the families who lost their children and loved ones today.
From the UK Guardian: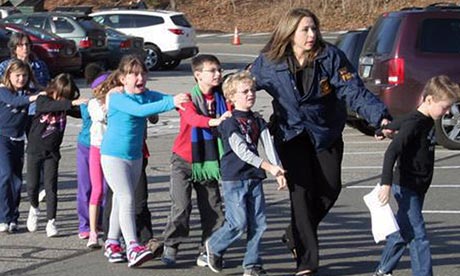 In this photo provided by the Newtown Bee, Connecticut state police lead children from the Sandy Hook elementary school. Photograph: Shannon Hicks/Newtown Bee