Monday, February 20th, 2012
I believe Mitt Romney is not a very good Mormon for his anti-immigrant and harsh stance against Latinos.  It is unfortunate he doesn't support the principles of the Utah Compact.  Instead, he would rather seek endorsements and guidance from the likes of Kris Kobach and Pete Wilson.  Kris Kobach is the architect behind many anti-DREAM Act laws and attacks on our 14th amendment via birthright citizenship.  Kris is the legal arm of FAIR that is associated with the John Tanton network.  John Tanton is known for his anti-semitism.
From The Take Away:
Why Some Mormons Don't Support Romney in Arizona
Monday, February 20, 2012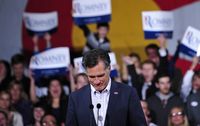 Mitt Romney addresses supporters on a caucus night event in Denver, Colorado. (Emmanuel Dunand/Getty)
Mitt Romney has had a hard time garnering support among social conservatives. But since he's a minister in The Church of Jesus Christ of Latter Day Saints, you'd think that unanimous support among Mormons would be a given. That's not the case in Arizona, where strict adherence to Mormon teachings have led some to adopt libertarian views — and support Ron Paul.
Peter O'Dowd is news director at KJZZ in Phoenix, Arizona. He gives us a run-down of the issues that are important to Arizona Republicans.
Guests: