Reclaiming the Love – Jeanmarie Simpson Never Gives Up
by
Hot Off The Press (Release)
on Dec. 07, 2012, under
Press Releases
Writer, actress, singer, director, producer, mate, mother, grandmother – Jeanmarie Simpson celebrates 40 years in "the business" and is ready to make it about the love.
FOR IMMEDIATE RELEASE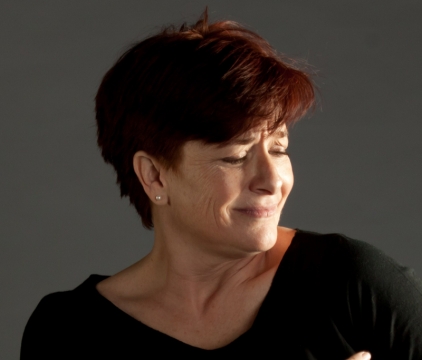 Jeanmarie Simpson, Playing for Love
PRLog (Press Release)-Dec 03, 2012- Jeanmarie Simpson is back onstage, and this time around she says she's doing it for love.
"I am just burned out and have lost interest in trying to generate income in a part of the country where there is simply no industry to speak of," she said. "There is a huge regional theatre that has no use for actors who live locally, no matter what their experience (though I suppose a movie star would have a shot). The film industry has departed with, I guess, the popularity of the western. Occasionally something comes along, but it's rare. In general, there is no work here for union members, and I'm not going to keep paying dues to four unions that make it impossible for me to practice my craft. I want to work at what I love when I want to do it, when I feel the love and the drive. So, by definition, that makes me an amateur, and I'm okay with that. Ten years ago, that moniker would have had me ready to jump off a cliff. But today everything feels so different. The world has changed, I have evolved. I care much more about the humanity of everyone involved than I do about what the critics say or what my friends in the business think of what I'm doing. In the end, it's going to be all the moments of my life that stack up and define me. I want it to be about the love."
What does this mean? Will Simpson stop pursuing professional projects altogether?
"Not at all," she insists. "That isn't the deal. What I will do is pursue what I want to do, when I want to do it, because I love the material and the people involved. If the job pays, that's great. If it doesn't, it must be something extraordinary, because it takes me away from my loving husband and my little dogs and my home that I love being in with them.
Film and television starJudd Nelson, who appears with Simpson in the film, 'A Single Woman,'said of her,"Simply put (and nothing about her can be put simply), Jeanmarie Simpson is a bright, enthusiastic, and powerful performer and an even more gifted and inspiring writer."
"Interestingly,"Nelson continued, "those two tenants living side-by-side within her are not natural brethren. Neither of them are given much to supplication, nor have a natural instinct for compromise. But, amazingly, they are able to co-exist within her, because they are secondary to Jeanmarie's elemental conflict: the struggle between her huge heart and her mighty mind, between impression and fact, between situational ethics and absolute truth. You and I, the outsiders, the spectators watching, we are the lucky ones able to receive her wisdom, and courage, and truth, and hope, and grace. Ultimately, I believe Jeanmarie to be one of humanity's invaluable resources."
● (View photo of Nelson with Simpson here:http://en.wikipedia.org/wiki/Judd_Nelson. Also follow the links to Simpson's official website and check out her past and future projects, photographs, resume and more.)
How can such a strong and appreciated artist – veteran of screen and professional stages from Arizona to Off-Broadway – leave behind a career that has spanned four decades?
"Easy," Simpson said. "I'm a middle aged woman, which means there is one role for every million of my "type." I am also in Tucson Arizona, not in Los Angeles. I love LA and have a son and grandson there and would live there if things were different. But I'm married to a man with whom I am madly in love and who is a scientist and has what we theatre geeks call "a regular job." He is an entomologist at the University of Arizona – I hope people will look up his great work. His name is W. Eugene "Gene" Hall and he is one of the world's very few experts on Ptiliidae, or featherwing beetles, which he loves. Love is what keeps me in Tucson. Love is my new criteria for everything. If I love it, I'll pursue it. If it makes me feel tired just thinking about it, I'm not doing it. Period."
So what is she doing now? Playing one of the funniest characters ever written for the stage – Louisa "Ouiser" Boudreaux in Robert Harling'sSteel Magnolias.
"Love" isn't the first word that comes to mind when one thinks of a character famous for having said, "He's a real gentleman. I bet he takes the dishes out of the sink before he pees in it."
But Simpson says it's all about perspective.
"First of all, it's the experience of working with the other five women in the show, all of whom I have fallen in love with, along with the director and the stage manager. It's a cozy 60-seat theatre that's a half mile from my home. I couldn't ask for a more nurturing environment. Then there's my delicious job of playing Ouiser, who is a born entertainer. No matter how off-center or grouchy she gets, she has one eye on the gallery. I have known people like her in my life, but I've never understood them as well as I'm beginning to through the work of becoming Ouiser. Her way of dealing with life's pitfalls is to say outlandish things that make people laugh. But when things get seriously difficult or tragic, she doesn't run away or try to cover it up with cheap humor. She gets quiet and stays. She reaches out in love to her sister-family in the hair salon. She is, ultimately, forgiving and open-hearted, which makes her such a joy to play."
Theatre patrons will have the opportunity to see Jeanmarie Simpson loving and playing onstage at Tucson Arizona's Red Barn Theatre from January 11 through 27. Tickets range from $10 to $20 and can be reserved in advance or purchased at the door, though this production ofSteel Magnoliasis sure to be standing room only.
Call\520-887-6239for reservations or visit the website,http://www.theredbarntheater.com